---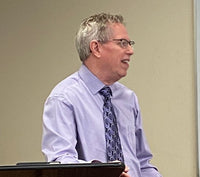 Cecil is leading an online book study of The Next Thing from Sept. 13 to Oct. 11. When paying for the book study, you'll receive an invitation to join.
You'll need to purchase The Next Thing book for the study if you don't have one already.
It's also recommended to purchase The Next Thing Participant's Guide to go deeper with the material.
The study will take place online on the following Wednesdays from 7:30pm-8:30pm Central time:
Sept. 13

Sept. 20

Sept. 27

Oct. 4

Oct. 11

If ordering from the Cecil Taylor Ministries store, it is recommended to order your books no later than Sept. 5. You may be able to receive books faster from another online book seller such as Amazon.